Mercedes-Benz Cincinnati Independent
Smyth Imported Car Service Inc.| Mercedes-Benz Cincinnati Independent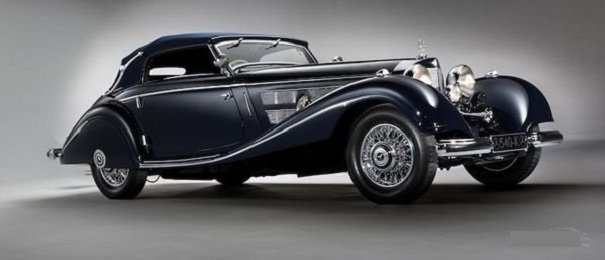 Mercedes-Benz traces its origins to Karl Benz's creation of the first petrol-powered car, the Benz Patent Motorwagen, financed by Bertha Benz and patented in January 1886,and Gottlieb Daimler and engineer Wilhelm Maybach's conversion of a stagecoach by the addition of a petrol engine later that year. The Mercedes automobile was first marketed in 1901 by Daimler-Motoren-Gesellschaft. The first Mercedes-Benz brand name vehicles were produced in 1926, following the merger of Karl Benz's and Gottlieb Daimler's companies into the Daimler-Benz company
Mercedes-Benz 540K (type W24) is a car from the German firm Mercedes-Benz from 1935 to 1940.
The straight-8 cylinder engine of the 500K was increased to 5,401 cubic centimetres (329.6 cu in), which aspirated by twin pressurized updraft carburetors, developed a natural 115 hp (86 kW). However, there was an attached Roots supercharger which could either be engaged manually for short periods, or automatically when the accelerator was pushed fully to the floor. This increased power to 180 hp (130 kW), creating a top speed of 170 kilometres per hour (110 mph).
Power was sent to the rear wheels through a four-speed or optional five speed manual gearbox that featured synchromesh on the top three gears. Vacuum-assisted hydraulic brakes kept the car under the driver's control.